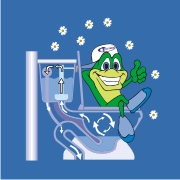 11th July 2011.
To: All Dealerships, Installers, Sub-contractors, Management and Personnel.
We are very happy to share more good news with everyone involved with our product range!
The fan induction motor used in our Toilet Friend Odour Removal System now also conforms to:
• European Standard EN 60335-1
• European Standard EN 60950
• UL (Underwriters Laboratories) (USA)
• CSA (Canadian Standards Association),
In addition to the above our other subcomponents conform to:
• SABS ISO 9001:2000 QMS certification for our transformers
• TestAfricaEC Declaration of Conformity (CD 73/23/EEC)
• EC Declaration of Conformity (IEC 60065:2001)
• EC Declaration of Conformity (SANS 60065:2003)
• ITACS (No. 3935/2 – 30 April 2007), and
• ITACS (AS/NZS 60065:2003)
This should serve as further proof that our company strives to provide a product of the highest quality at all times, and that we are prepared to go out of our way to ensure that our service quality matches the quality of our product!
Henri Tesner
Chief Executive Officer.